Browse Our Selection of St. Albert Homes For Sale
For Over 60 Years, We've Built A Reputation As a Trusted, Experienced Team Of Realtors Determined To Find Our Clients A St. Albert Home That They Love.
Established in 1963
Bermont Realty is established and trusted
in St Albert for over 60 years.
Family Owned & Operated
For great customer service that
lives in & knows the area.
Clients Come First Attitude
A clients come first attitude means we
take the time to listen to your needs
We Help You Find Your New Home in St. Albert
Finding a new home on the market can be tricky. We are here to help you find your new St. Albert home, whether you are new to the community or a long-time resident.
The St. Albert real estate market consists of many beautiful homes. Our licensed real estate agents show you every option that suits the needs of you and your family.
Don't go at it alone- we'll help you find housing that will make St. Albert feel like home.
Houses, Condominiums, Apartments- We Assist Your Search For Any Home

Different housing options can vary greatly. With so many options, it may be challenging to find a home that suits your needs. We've helped families of all sizes find a home they love.

It's critical to consider all options when searching for a new home. Our agents track new listings and price shifts within the St. Albert real estate market.

We assess every factor specific to your living situation:
The size of your family
Your budget and price range
Your daily commutes

When something is important to you, it's important to us too. Bermont Realty puts your needs first.
Finding Your New Home With Bermont Realty
Step 1: Browse Our Online Property Listings
To start your search, take a look through our online listings. Once you find a home you like, reach out to the respective agent assigned to the listing. Or, you can go straight to contacting one of our licensed agents.
Step 2: Correspond With Your Agent
When you have connected with one of our agents, they will answer any questions you may have about a property. At this point, your agent will get to know you and think of which homes to show you.
Step 3: Deciding On A Home
Your agent will assist you from here by planning any visitations to a property for a viewing. Once you've found a home that is right for you, your agent will be there to help you with the rest of the process.
See our listings above
Trusted By The St. Albert Community: Our Promise To You.
Since 1964, Bermont Realty has taken an active role in growing St. Albert from a small town of 8,000 to a thriving center of over 66,000 residents.
Due to their connection with the St. Albert real estate market, our licensed agents can go above and beyond for our clients. By staying informed on recent developments and the latest homes to come onto the market, Bermont Realty offers you every option available to you.
When enlisting our services, we prioritize our communication with you. We take note of your housing needs, desires, and concerns so that we only present you with homes and properties that are right for you.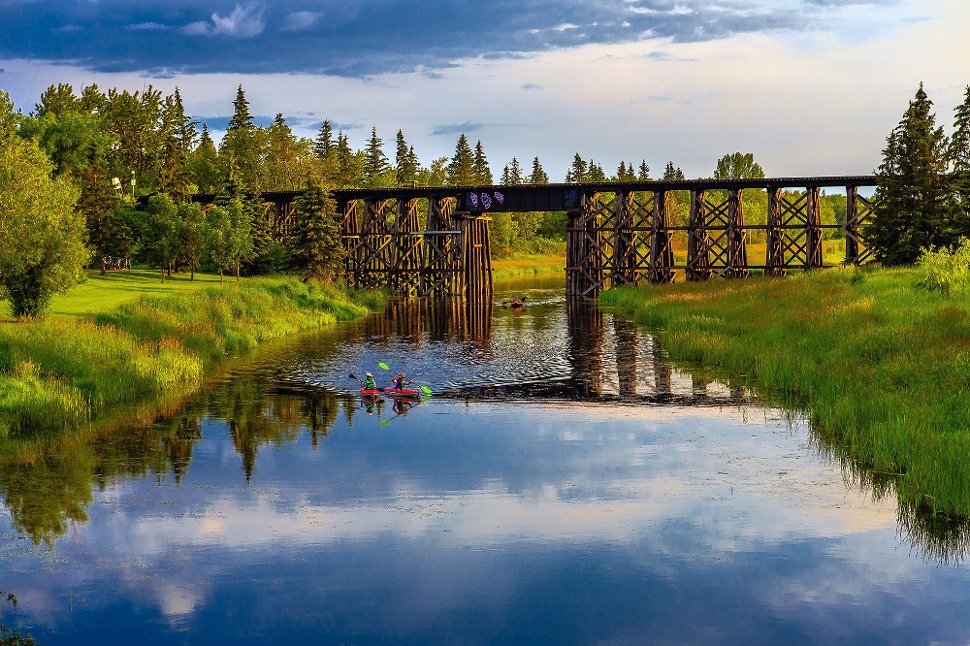 St. Albert Trussel Bridge | © Josh Shankowsky
More About Homes for Sale in St Albert
Northwest of Edmonton, St. Albert is regarded as one of the most desirable cities to reside in Canada and has been voted one of the best cities to raise your family. What was once a Metis settlement is a city that bloomed into a bustling urban centre.
St. Albert's rich history goes back to 1861 when Father Albert Lacombe built a small wooden chapel which now sits as a landmark on top of Mission Hill. The building lends a small-town aesthetic to this friendly city, along with historic grain elevators and a little white schoolhouse open to public tours.
Vibrant Downtown
North of Sir Winston Churchill Avenue and along Perron Street lies the downtown core of St. Albert. Here many come to gather for celebrations and festivals such as the Alberta International Children's Festival, New Year's fireworks, the Outdoor Farmer's Market, and Rock n' August, to name a few.
Just off St. Anne Street lies the Public Library and The Arden Theatre, both in St. Albert Place. To the west of Downtown lies the Saint Albert Provincial Court House.
Many of Downtown's businesses, restaurants, cafes, and medical offices, including St. Albert's Community Hall, are within walking distance of each other.
St. Albert Clock Tower | © Josh Shankowsky
Schools
St. Albert students consistently outperform provincial averages on the Alberta Provincial Tests and benefit from enriching experiences with French Immersion, International Baccalaureate, Logos, and Cogito. There are programs for students with special needs or distant learning.
Elementary, High School, and Junior High education are offered through schools in the Catholic, Francophone and St. Albert Public School boards. These schools provide outstanding programs that offer instruction in the classroom and the opportunity to study in places such as museums, recreation facilities, and art studios.
Talk to one of our realtors for a St. Albert home for sale that's near one of St. Alberta's top-quality schools.
Parks & Nature
Although concrete jungles are attractive, everyone must have a bit of nature to fill their spaces. Fortunately, St. Albert offers more than just a little. The city is filled with parks, nature conservation areas and open spaces.
You can bike, run, skateboard or take leisurely walks on the Red Willow Trail. The Red Willow Trail system includes over 85 kilometres of trails that meander through forests and fields.
The city is home to more than 100 playgrounds and parks to discover with your family. Because nature is such an integral part of this city, you can find a lot of outdoor activities and gatherings that you can be a part of.
Are you looking for a bit of thrill? Be sure to stop by the St. Albert BMX track and skateboard park.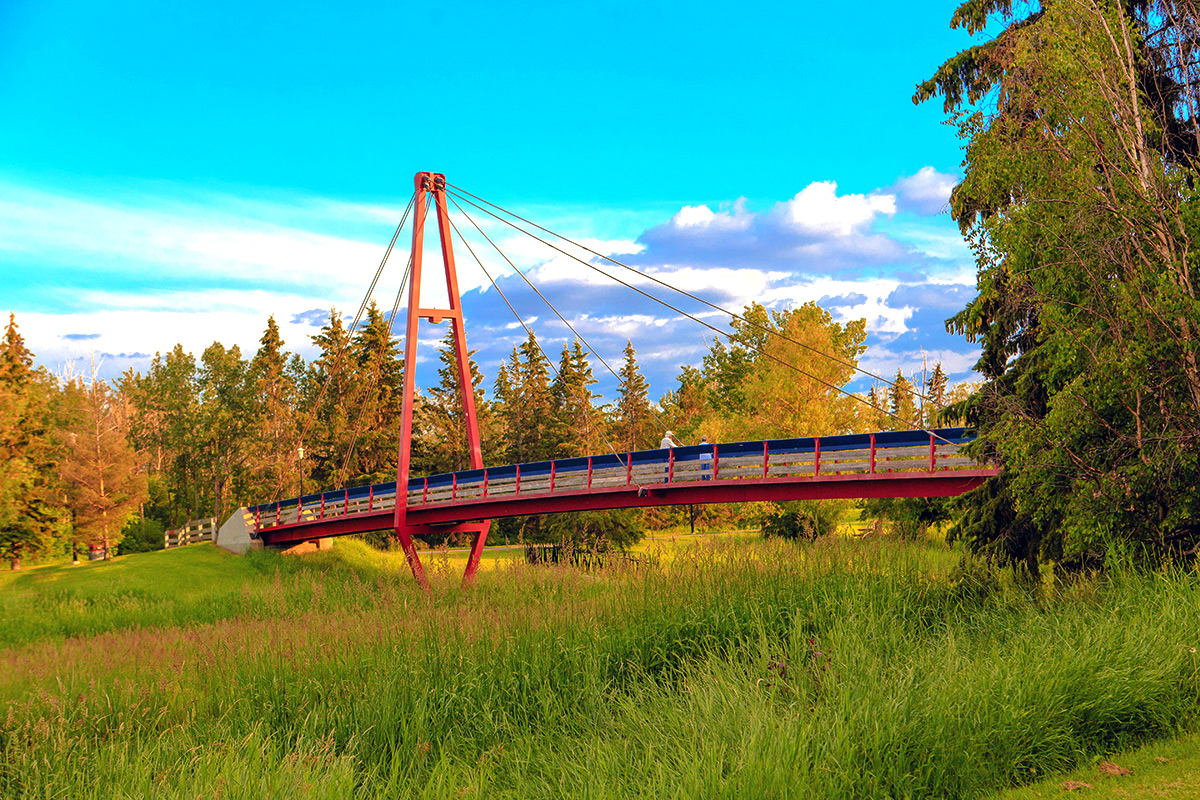 In this Photo: Children's Bridge St. Albert | © Josh Shankowsky
Amenities & Facilities
St. Albert offers many recreational facilities for those looking to blow off some steam and get fit. It doesn't matter if you're looking to win the next championship or be silly with friends; there is something for everyone.
Servus Place
Are you looking to pursue your fitness? Servus Place is a place where residents can gather to explore healthful living. With more than 320,000 sq ft of recreation and fitness area and activities, there's something for everyone in Servus Place! Ice surfaces are a favourite for skaters of all ages and levels, and the two soccer fields house many exercises and team sports.
Fountain Park Pool
Residents can stay active at St. Albert's aquatic programs. Register for swimming lessons or inquire about drop-in swimming. This facility has three swimming pools, multi-purpose court meeting rooms, and a children's playground.
Outdoor Sports
p>St. Albert has an impressive array of sports facilities outdoors that include baseball diamonds, sports fields for soccer, ice skating rinks and much more!
Often Asked Questions about Homes for Sale St. Albert
Why Live in St. Albert?
St. Albert is widely believed to be among the most stunning places to live in Alberta. The community is committed to a healthy and green lifestyle, so you'll be able to find a fantastic assortment of recreational facilities and open green spaces available for the public to use throughout the town.
What are Common Home Styles in St. Albert?
Styles of homes are what you'd think of in a small town away from a large city. While townhouses, condos and other attached residences can be found all over St. Albert, the housing area is predominantly detached single-family homes with various styles for the largest part.

What is the average house price of homes in St. Albert?
According to the City of St. Albert Economic Development, the average selling price for 2020 to 2022 combined is $494,447 based on March, April and May selling figures.

Which are some of the more sought after neighbourhoods within St. Albert?
Kingswood, Erin Ridge North, Oakmont and North Ridge are the more sought after neighbourhoods to purchase a house within St. Albert, AB.
Which are the most affordable neighbourhoods to purchase a house in St. Albert?
The most affordable neighbourhoods to purchase homes within St. Albert includes Downtown, Grandin and Mission and Older Braeside, Sturgeon Heights, and Akinsdale.
What cities are near St. Albert?
The communities closest to St. Albert, AB, are Edmonton, Morinville, Rural Sturgeon County, and Spruce Grove - Stony Plain.
What is the average price for a condo in St. Albert?
For condos in St. Albert, the active average price is $341,000 with 59 average days on the market. Sold condos in 2022, the average cost is $274,00 with an average of 38 days on the market.
What is the median income of a St. Albert resident?
Government of Alberta 2019 data shows that the median household income in St. Albert is $131,300 per year, higher than the national median of $66,800 a year.